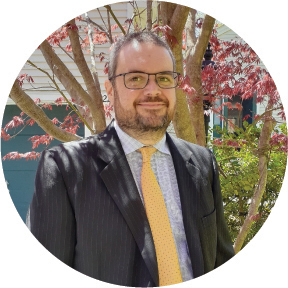 Attorney Blackwood strives to put his clients' minds at ease during the most difficult of times. He does offer evenings and weekends by appointment. There are steps that can be taken to protect your interests. Arm yourself with the most powerful tool you can have in today's complex times, arm yourself with the knowledge of your rights and available options to protect yourself, your family and everything you have worked so hard for.
Blackwood Law, PLLC is a Debt Relief Agency, as defined by the U.S. Bankruptcy Code, assisting people and businesses to file for Bankruptcy protection. Additionally, Blackwood Law, PLLC assists people with Alternative Debt Resolution Strategies.
Attorney Malcolm P. Blackwood grew up in New Hampshire after immigrating from England with his parents and brother when he was two. Malcolm is now into his 20th year of practice. He attended both law school and high school in New Hampshire, where he returned after earning his undergraduate degree in Psychology from Columbia University in New York City. Malcolm now specializes in the areas of Bankruptcy and alternative debt resolution. Malcolm solves debt problems.
Malcolm enjoys his practice because he gets to help people resolve financial obligations that they could not meet, while usually retaining all their property, including their home and vehicles. He also frequently files a Bankruptcy to stop a foreclosure for a client who would otherwise be facing the loss of their home. Although Malcolm often deals with people during the most difficult times in their lives, emotionally and financially, he has found the work rewarding. "I like what I do because most times I am either helping a family to save their home or stopping creditors from suing and harassing clients for debts they cannot pay."
Malcolm prides himself on being "not your typical lawyer" and has molded his firm to achieve this goal. This means that you can and will get your attorney on the phone, even if it is your first call to our office, and that nights and weekends are always available by appointment. This means that every aspect of your case from start to finish will be handled personally by your attorney. You will not be handed a 40 page questionnaire and asked to partially construct your own Bankruptcy petition. Malcolm works on everything directly with you. This also means that you will receive straight answers to all questions, even if those answers may be unpleasant.
Most importantly, Malcolm will strive to make sure that you feel that you have been treated more than fairly at all times, and that you are comfortable with your attorney throughout the process. Too often we hear from clients who have met with other attorneys that they do not understand the reasons behind the advice that they are being told to follow. Here, we not only want you to understand everything your attorney recommends and feel comfortable to ask any questions, but we also want you to understand why we want you to do what we recommend.
"Compassionate Representation Through Difficult Times" has been our slogan since the day we opened, and we work hard to provide that to every person who turns our way for assistance.